Earth Stones, 2016
These works explore the patterns that record the changing face of the rural landscape. These patterns reference the elementalforces of nature, human occupation and animals.
Intaglio, collagraph, plaster, rusted steel.
Cry Me a River 2 (2015)
East Exhibition, Hastings City Art Gallery
A selected biennial exhibition which showcases artists who have an affiliation with Hawkes Bay. The curator was Lynda Tyler.
Cry Me a River 1 (2013 -2014)
With its tear shaped water patterns Cry Me a River is my lament to the degradation of New Zealand's beautiful waterways.
Intaglio etching, relief, chine colle, plaster, resin, 2 metres x 450 mm variable
Printmaking: Beyond the Frame Exhibition, Gus Fisher Gallery, Auckland; Tauranga Art Gallery
As I walked out one morning, 2014
Collaborative work with Kathy Boyle, Beth Charles, Julia Ellery, Laura Hudson
Drypoint/screen print/etching/collagraph - scanned onto transparencies - viewed on light boxes - 820 x 550 mm
Printmaking: Beyond the Frame Exhibition, Gus Fisher Gallery, Auckland
Botanics 2013
Botanics responds to the air currents produced by the proximity of the viewer, creating the illusion of waIking through a fieId of fading summer flowers.
Description: screen print, relief print, intaglio, pyrography, encaustic wax on Kozo paper, harekeke paper and found pages from a scientific horticultural text book.
NorthArt Gallery, Auckland 2013; Hastings City Art Gallery 2013-4; Taylor Jensen Art Gallery, Palmerston North 2014; Gaffa Gallery, Sydney, Australia 2014.
Terra flora 2012
Solo shows, Hastings City Art Gallery, 2013/2014
These prints reference the memento mori works of the 17th century Dutch masters.
They are contemplative works refIecting on the subtIe beauty and transience of nature in an increasingIy freneticaIIy-paced society.
Communication, 2011
I've got something to tell you..., installation
Installation with reductive woodcuts, life sized imagery
I've got something to tell you, artist book
Just between you and me..., plaster etchings
Stitched up, 2010
Graduation Exhibition EIT
This work explores the language of clothing in relationship memory and identity. I have used the dress as a metaphor to reveal aspects of the character and persona of my mother referencing my own real and mutable memories of her.
The sculptural works utilize a cross discipline of practices, textiles, print and stitch.
Secrets, Lies and Other Stories, installation
Organza, print and found materials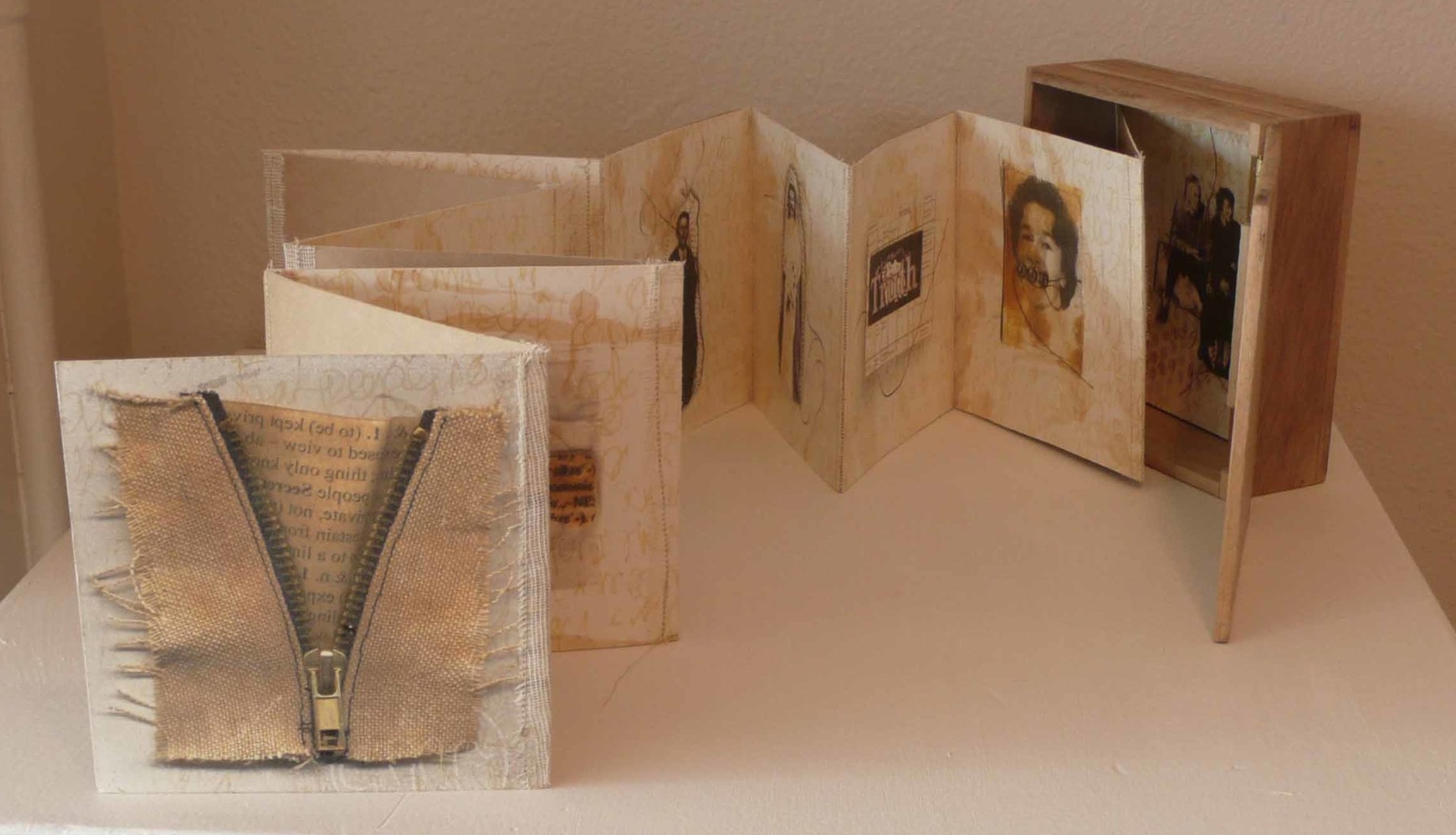 Blatant Resistance, artist book